Any business to be successful needs to understand that they really need to invest in people to get the best performance out of them. A good company culture is what the employees are focusing on now when they look for a job change. Hike and brand name are still vital factors but of late, company culture has climbed up the priority chart. After the pandemic, people have grown too conscious in making job-related decisions as stability is now their primary concern. And for this stability, a company needs to have a good vibe to draw in people. INTECH is one of the names often associated with great company culture.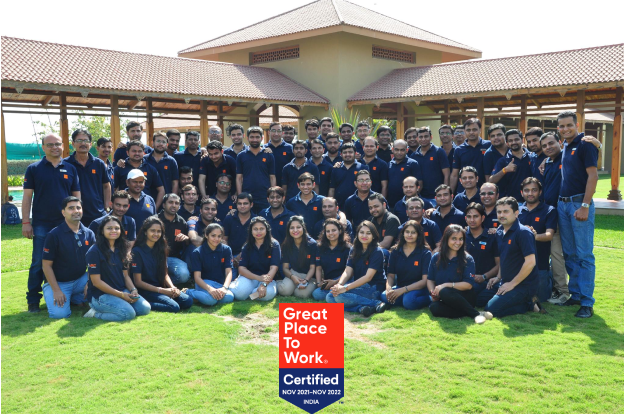 The company is popular for having a vibrant workspace that allows each and every employee to exhibit the best of their skills. We stand out from the crowd in being a people-centric company that places the well-being of its employees before anything else. The work culture brims with optimism and opportunities. There is no hierarchy here and everyone is valued. Below are some areas where INTECH shines in.
Employees, the biggest asset
Companies that put a healthy culture before a healthy balance sheet go a long way in securing a distinct place in the market. INTECH is known for its great work culture that treats every employee with great respect and values everyone's skills and effort. Money can be a big boost to employees but certainly not a long-term one. It is the ambiance of the company and the recognition it offers to its employees that work towards gaining the loyalty of the employees. INTECH, one of the top IT companies in Gujarat, takes the extra step in providing the employees more than their regular wages. We offer several robust supplemental programs like workshops on stress reduction and mental well-being, grievance counseling services, diet consultations, engaging fun activities for teams, etc to boost both the physical and mental health of the employees.
Our leadership has time and again echoed the importance of building a people-centric organization. Profit is required but the goal of the company is to make the life of people better. We are driven by the vision to provide work-life balance to our employees so that they live their life to the fullest while they contribute to the growth of the company. Our employee-friendly policies lead to zero attrition and the building of a database of loyal employees who happily stay with us for decades.
Involvement beyond office duty
INTECH has some of the best hr practices in place that work towards creating a great bond among the employees both inside and outside the office. Any team outing or fun gathering organized by the company draws in maximum participation of the employees, showing their love and bonding with each other. When co-workers show a willingness to spend time with each other beyond office hours, this shows the great work culture the company has. The company leadership team makes it a point to keep every matter involving the company transparent and informs the concerned employees. A communication gap has the potential to create uncertainty and insecurity in the workplace. As INTECH follows the policy of transparency, the employees know where they stand and where the company is headed to.
Support in pursuing passions
A great company culture recognizes the passion of its workers and creates opportunities for them to flourish in their respective areas. The people in higher roles in INTECH allow their colleagues to take ownership of their works. This, in turn, instills a sense of responsibility among the employees and build in them an optimistic approach. If the employees get room to explore their creativity, they are motivated to put in the best of their efforts. INTECH provides a platform for every employee to think out-of-the-box and come up with ideas that can bring out a change in the way the company functions. No suggestion is pushed off as trivia and whenever the right time comes in, these ideas are implemented and the employees are congratulated for their creations. We believe – "Give people something they love and then sit back; in no time you can see wonders happening. "
At the same time, the people in higher positions understand that new attempts can fail. They congratulate the team, irrespective of the result. They show them the areas where they faltered so that they don't repeat the same mistake. INTECH takes care to ensure the all-round development of every employee and foster a sense of commitment in them.
An open space to express freely
The best thing about INTECH, one of the top IT companies in Gujarat, is it provides a workspace where people can be their authentic selves. The work environment is such that people can comfortably express themselves. There are meetings held at regular intervals to appreciate the contributions of each employee and fascinating rewards are given to the best performers. We recognize people as the heart of the workplace and so everything that they think and feel is important to us. Our leaders are groomed to foster and support the growth of the company's employees. Our leaders are not just an instrument driven with a vision to make money for the company. Instead, they have higher responsibilities of mentoring the whole team in a way that there is collective and progressive growth.
Our policies are so transparent there is no scope of office politics. There is no room for gossiping or backbiting. Everyone works here with each other for each other. We provide a physical space that is equipped with amenities that provide the required infrastructure for the smooth functioning of a company. Leaders are easily accessible and all employees are heard. Honesty and authenticity set our leaders apart who are always down-to-earth and more than willing to help at any point in time.
Celebrating Personal Happiness of Employees
A company that recognizes its employees as human and not as machines build a good company culture. Celebrating birthdays, marriages, anniversaries, etc of employees may sound trivial but these add a lot in creating a sense of belonging among the employees. This is one of the features of INTECH's best HR practices wherein the HR personnel keep records of special days of the employees and sends wishes on those days. Team members celebrate the special days of their mates by cutting cakes and exchanging gifts. As these celebrations signify good families, similarly they also stand for good organizations. These help to create a sense of community among the teams who relish all these wonderful experiences. There are celebrations in the office during festivals like Diwali, Christmas, etc that show team spirit in festivity. Some may argue these are just waste of time and contribute nothing to the real work. The truth is, these help to build meaningful relationships that lead to strong affinity among the team members which eventually result in great team performances.
Clear communication about the company's mission
Any organization that makes false promises or sets unreal expectations collapses in a matter of time. It is important to let the employees know what the long-term goals of the company are so that they are prepared to work towards achieving them. INTECH follows the norm of articulating and communicating the company's culture throughout the organization so that every employee is clear about where they are heading to. Diversity is another thing INTECH is particular about. INTECH makes no discrimination based on sex, gender, color, caste, or race when hiring resources. We ensure there is the diversity of thought and approach in the company that can eventually send out the message of unity in diversity.
Final Thoughts
INTECH takes pride in being a reputed organization with a great company culture that recognizes and values the contribution of each of its employees. Every person counts and every opinion matters. We seek the growth and happiness of our employees which we believe will eventually lead to the growth of the company. Only when the employees are happy, they can deliver the best of their performance. We keep working towards introducing new benefits and schemes that will make our employees feel valued. We give them the canvas to draw whatever they are best at without any restriction. Freedom of expression inspires them to think out-of-the-box and create something far beyond their potential.