How INTECH Increases Employee Engagement
INTECH is a company that has been around for over 15 years. We are a leader in the field of IT and have grown to become one of the most trusted IT companies for our clients across the globe. The company has also received the prestigious Great Place to Work® certification. The certification recognizes INTECH's culture of excellent employee experience.
The Great Place to Work® Certification is awarded by a rigorous assessment process that measures an organization based on its Trust Index© and Culture Audit© attributes. Organizations with more than 70% of employees who rate the workplace as great are eligible for this certification, which rewards best-in-class people practices grounded in employee experiences.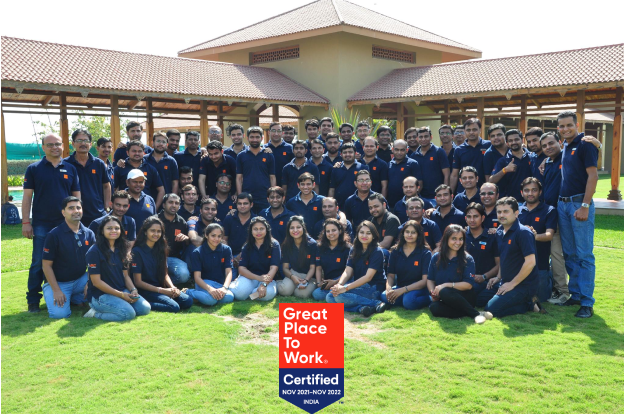 The company has always put people first, and we've done our best to protect jobs. Our employees have felt respected by their leaders in these uncertain times. It's given them the chance to see what kind of leadership they can expect from us in the future.
It's no secret that many organizations have faced significant difficulties in the last couple of years, with the COVID crisis at its core. More than ever, people want to work for companies that they know are making a positive impact on society and their employees' lives. INTECH is one of these companies – we maintain an engaged workforce by investing in our people and ensuring they feel valued every day.
When the world was being threatened by a global pandemic, many companies expected to see employee engagement drop. However, when Covid-19 came about in 2020, at INTECH our strong leadership structure caused an increase in our employees' levels of job satisfaction and happiness! It was the time for our leaders to implement effective leadership methods during this uncertain period so they can ensure that all members are cared for while also maintaining business performance metrics. One of these methods involves building trust and respect as well as commitment with long-lasting teams through specific management initiatives.
The methods INTECH leadership implements are:
Providing a flexible work environment and ample opportunities for personal development and growth. We've seen that employees who feel supported, challenged, and appreciated at work are more engaged in their jobs.
Building strong relationships with our employees by being transparent about how they can impact society through them. This has contributed to higher retention rates as people trust us to help them make a difference.
Encouraging and enabling the people through 'House Calls' to have meaningful relationships to increase knowledge transfer, collaborative working, productivity, wellbeing, and innovation.
Optimizing communication channels both up and down hierarchy lines so everyone is on board with what each other is doing from day-to-day
Having open conversations about any issues that come up along the way without jumping straight into assigning blame but instead find out how we can do things better together next time around.
It was clear from the beginning that Covid-19 would be a difficult time for all involved. But leadership qualities like trust, empathy, and compassion quickly became critical to keep everyone together as work continued. It's these same essential traits in INTECH leaders which have led them so successfully to increase employee engagement and performance over recent years.
There are many factors that can affect an employee's engagement and productivity. Some of these include
Social cohesion,
Feeling supported by one's supervisor,
Information-sharing within the company
Common goals among employees at all levels
Good communication channels between departments
Finally trust: when people feel like they're being heard then it makes them more committed
To foster the culture of engagement the INTECH management took a focused approach in implementing several practices such as:
The senior leaders communicate clearly, consistently, and transparently about INTECH's vision.
The employees from each team are well informed about the goals of the company as well as respective teams in all strategic meetings.
The employees are timely updated about the progress and developments for each goal and objective.
There are one-on-one meetings between team members and senior leadership to discover how each person fits into the big picture.
Being aware of each team member's hard work and efforts and recognize them on company-wide platforms and in meetings. Making sure they are noticed and appreciated.
Offer employees flexibility and autonomy in their roles, by means of flexible schedules, less supervision, or more responsibility
Offer full or partial reimbursement for participating in educational programs that impact the employee's overall quality of life.
Identify the best performers and find opportunities to either promote them or giving them more responsible tasks and assignments for them to grow in their current role.
Use social media and other company-wide platforms to greet people on their birthdays and other special days.
Provide training and mentoring opportunities that include company-wide leadership programs or smaller tailored one-on-one sessions.
Bi-weekly or monthly meetings among teams to know each other and share moments from their lives.
Investing in employee engagement initiatives has helped us retain our best employees, reduce our churn rate, significantly increase our business's productivity, and ultimately increase our revenue as a result.